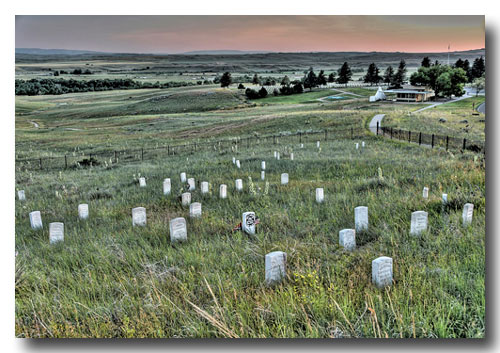 All photos copyright Bob Reece
For over 30 years, I have been photographing the Little Bighorn Battlefield National Monument where George Custer and members of his 7th Cavalry fell on June 25, 1876. Capturing the mood of the place and its terrain is always challenging.
Recently, I began experimenting with High Dynamic Range (HDR) photography which can produce a surreal or natural view of its subject. I believe Custer Battlefield is an ideal candidate for HDR.
Here you'll see some of the HDR photos I shot while at the battlefield the evening of June 27, 2009. Others were photographed on March 5, 2009. I hope they enable you to grasp the overwhelming deep feelings I experience while standing on Last Stand Hill. As always, click on the thumbnail photos to enlarge.
June 27, 2009



Indian Memorial looking northeast
Last Stand Hill





March 5, 2009
Custer National Cemetery

Deep Ravine Trail

Gibbon Flats and Little Bighorn River valley

Deep Ravine Trail & Wolf Mountains