By Bob Reece
Mitch Bouyer was a civilian scout-interpreter for the Custer Battalion. He was a mixed-blood Sioux. Mitch knew the lay of the land that the 12 companies of the 7th Cavalry, under the immediate command of Lt. Col George A. Custer, were traveling. Once the Indian village was spotted from the Crow's Nest early on the morning of June 25, 1876 it was Mitch that warned Custer that it was the largest village he'd ever seen.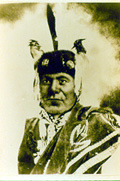 Mitch Bouyer
After splitting up his command, Custer retained five companies and about 210 men including Bouyer. All would perish along what is today called Battle Ridge.

The mystery of Bouyer began on the 28 of June while the survivors of the remaining seven companies and part of Gibbon's men buried the Custer dead. Bouyer was identified in several places over the battlefield; of course he could only have been in one place and this mystery would remain for another 108 years.

After the

Great Fire of August 1983, archeological digs were conducted in 1984-1985, 1989 and 1994. The immediate area of the doomed Custer men was surveyed that first summer and remains of soldiers were found. In 1984 at markers 33 and 34 fragments of an individual including part of a skull, upper jaw and left eye orbit were unearthed. This excavation also recovered a mother-of-pearl button, soldier cartridges and Indian bullets.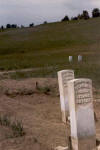 Markers 33-34, "U.S. SOLDIER, 7TH CAVALRY, FELL HERE, JUNE 25, 1876"
The renowned forensic anthropologist, Dr. Clyde Snow, studied all remains found over the battlefield and he discovered something quite extraordinary of the remains from markers 33-34.
The bones suggested that this person was of Caucasian-Mongoloid mix. The teeth were worn down as pipe smokers teeth would wear. The mother-of-pearl button would have been worn on civilian clothing. Soldier cartridges found presents a strong argument that he was of the Custer Battalion firing at the warriors and, they in-turn, were firing back at him hence the Indian bullets. There was only one person in the Custer Battalion that fit this description and that was Mitch Bouyer. To complete the detective work a video overlay of the only known photograph of Bouyer, with the photos of the bones, show they fit like a glove.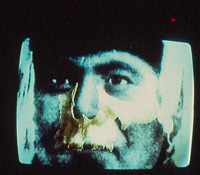 Bouyer with overlay photo of bones
In 1988, a marker for Mitch Bouyer replaced one of the U.S. Soldier markers. Bouyer's step-descendents, the LaForge's, who live in the area, witnessed the unveiling of the marker. Bouyer's marker is along Deep Ravine Trail about half way from Last Stand Hill to the edge of the Deep Ravine.
---
The definitive biography about Mitch Bouyer and one of the best about the Battle of the Little Bighorn