Plant & Bird Survey by Dr. Jane & Carl Bock (PDF)
---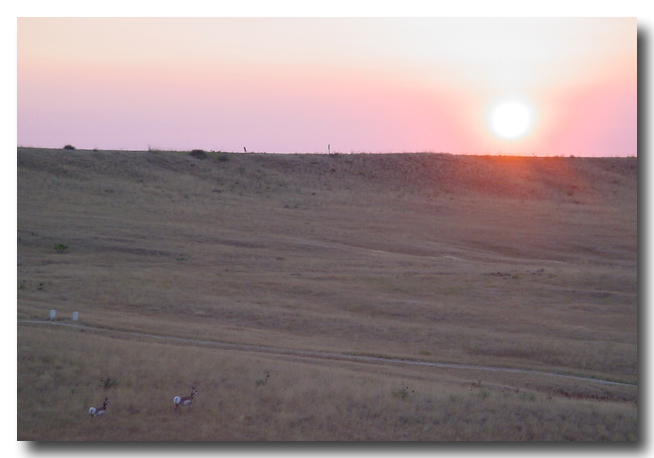 Antelope along Deep Ravine Trail - photo courtesy John Doerner
Most of us who study this battle do so from a military perspective. Whenever we have the great opportunity to visit the battlefield we are aware of the grass, plants, and birds; however, how many of us actually pay attention to them? I highly recommend you read this interesting report by Doctors Carl and Jane Bock of the University of Colorado (now retired), about the plants and birds at Little Bighorn Battlefield National Monument. The Bock report clearly explains how things have changed from June 25, 1876.
Indian accounts describe warriors hidden in the tall grass and behind sagebrush as they crawled toward, and fired upon, the soldiers. How many of you that stand on Last Stand Hill think you're looking at the species of sagebrush described by the Indians? The report explains that this particular species of sagebrush was destroyed in the 1983 fire and it might be 200 years before we see it again!
Debates continue about how much freedom visitors should have to walk the entire length of the battlefield at their leisure. The report is clear how walking off the trails will forever destroy the way the battlefield appeared in 1876. All of us who value preserving the view shed should appreciate the concerns raised in this report regarding foot traffic over the battlefield.
Reading the Bock report will provide valuable information to help you appreciate more of the battlefield during your next visit.
August 2006
Examples of Plants and Birds in the Report

Artemisia tridentata (Big Sage): Warriors concealed themselves behind the Big Sage as they fired upon Custer's soldiers. Photo by J.S. Peterson

Artemisia cana (Silver Sage): this plant was present during the battle and has survived the 1983 fire. Photo by Gary Monroe

Bromus tectorum (Cheatgrass): an exotic plant that was not present during the battle. Photo by Steve Perkins

Poa bulbosa: Per the Bocks, this plant is new to the area and could present a problem for the future. Photo by Robert Soreng

Eremophila alpestris (Horned Hawk): This bird is seen around the battlefield all year. Photo by Phil Myers

Buteo jamaicensis (Red-Tailed Hawk): A magnificent bird seen all year. Photo by Dr. Helmut C. Mueller

Cathartes aura (Turkey Vulture): A rare sight to find, but best chance is during the summer months. Photo by D. Chalfant

Zenaida macroura (Mourning Dove): A summer bird -- one you'll most likely hear before you see. Photo by Phil Myers

Antilocapra americana (Pronghorn Antelope) graze below Battle Ridge, Little Bighorn. Photo by John Doerner, Chief Historian Little Bighorn Battlefield

Mephitis mephitis (Skunk) Park Ranger Sharon Small shot this photo of a skunk family in the Custer Battlefield National Cemetery early September 2006.

Chances are you'll smell these cute little mammals long before you see one. Let's at least hope that's what happens!

Meleagris gallopavo (Wild Turkey) John Doerner photographed this family of wild turkeys on the Stone House lawn in April 2007.