Friends' secretary, Chuck Merkel, found a willing partner in the LBHA (Little Big Horn Associates) for the Friends support of two new webcams for the battlefield.
Chuck and his wife Diane were attending the annual conference of the LBHA in Rapid City over the July 4 holiday weekend. Diane had time to send me an email today asking if the LBHA could partner with us on this worthwhile project. My reply was, "Of Course – that would be great!"
But, she and I had to wait until late this evening for news from the LBHA board meeting to find out if this partnership would take place. Chuck serves on the LBHA board as well, so he made a motion for financial support of the project. He received a second to the motion and it was passed unanimously.
I'm very proud of our secretary Chuck Merkel and his lovely wife, Diane for working on this. And, I'm extremely pleased and thankful that the LBHA wants to help.
Everyone will be rewarded from this project once the webcams are installed. One will point to Last Stand Hill allowing the viewer to see the 7th Cavalry Monument and the Indian Memorial. The other will cover Deep Ravine Trail and portions of the Custer National Cemetery.
The current webcam's performance has been a disappointment with it working intermittently. The new webcams are provided by a local business in Billings along with a service agreement, so if there are any technical difficulties, there will be support.
We should have the webcams operational within a month. We will let you know when you can see the new views through this website and/or the LBHA's website.
Again, I sincerely wish to thank the members of the Friends who contributed to all of our projects for 2005. Their donations ensured we could support the delivery of four new warrior markers unveiled on June 25, 2005. Many members gave generously, and some who worked for major corporations worked with their employer's matching gift programs to double their contribution. And, finally, thanks to the donation from the LBHA we were able to support in full a last minute project given to us by the NPS for the two new webcams.
Bob Reece
July 2, 2005
Update July 15: I spoke with Ken Woody, Chief of Interpretation at LBH, today and he explained that he has issued the purchase order for the webcams. He needs to check with Kathy Not Afraid to determine if and when the webcams have been ordered. I'll post here when I have a more definite date. Thanks, B.R.
Update November 14: Web cams are almost installed.
Update December 5, 2005: Webcams are operational. Great views and in color. They refresh every five minutes -- hit your refresh button to see changes every five minutes.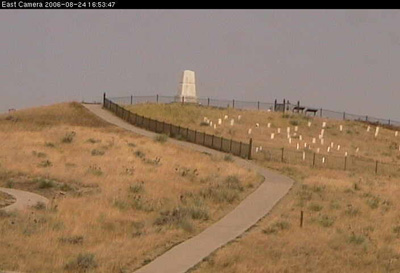 Last Stand Hill Webcam -- 7th Cavalry Monument, Indian Memorial, Battle Ridge, and Weir Point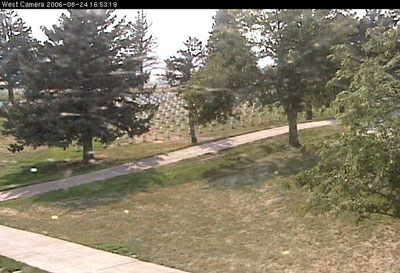 Deep Ravine Trail Webcam -- Little Bighorn Valley, Deep Ravine Trail, and National Cemetery