Friends of the Little Bighorn Battlefield Present
STRICKEN FIELD:
THE LITTLE BIGHORN SINCE 1876
By Jerome Greene, Foreword by Paul Hedren
Books Are Available, But
Hurry, Books Selling Fast!
Order Below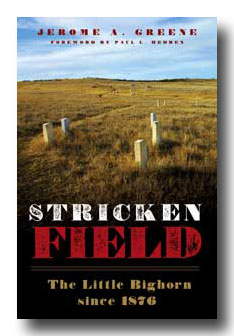 Limited Edition, Signed and Numbered, Offered Exclusively by Friends
Friends and the University of Oklahoma Press are proud to bring you this soon-to-be rare book signed by the author. It is luxuriously bound in genuine leather and with colored end sheets with foil stamping on the spine and front cover. All proceeds from the sale of this book enable Friends to assist the National Park Service with future projects at Little Bighorn.
Complete history of the battlefield from 1876 through the Indian Memorial dedication, including all the burials and reburials of the Custer dead

Establishment of the national cemetery

Complete list of every superintendent and photos

Nearly 100 illustrations, some rare and never-before-published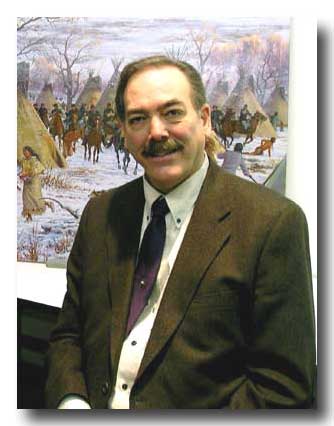 Jerome Greene at Washita Battlefield National Historic Site, Oklahoma
Mr. Greene is considered one of our very best historians of the Plains Indian Wars who is researching and writing today. His history of the Little Bighorn Battlefield since 1876 is the only source for the complete history of that sacred ground in existence.
This special limited edition, signed by Mr. Greene, will quickly increase in value and be a treasure that you can leave to your children and grandchildren.
Friends is taking orders now. Because Friends produced only 100 of these books, we cannot take requests to hold; we can only process paid orders.
Price: $110.00, U.S., includes shipping and handling
Price: $130.00 international orders includes S&H
Limit Three Books Per Person
***
Allow 2-3 weeks for delivery.
Orders processed on a first come, first served basis.
***
To order: choose either domestic (U.S. orders only) or international:
For U.S. orders includes shipping and handling:
________________________________________________________________________________________
For international orders includes shipping and handling:
Or print this form and mail check or money order (no cash or COD accepted) to:
Friends LBH, P.O. Box 636, Crow Agency, MT 59022