Friends Summer Events
June 26-27, 2015
139th Anniversary of the Battle of the Little Bighorn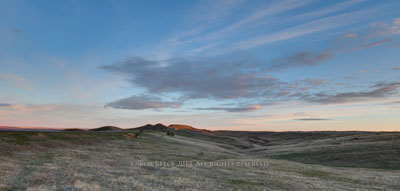 Sunrise Over Weir Point
Photo by Bob Reece
Friends held the commemoration events for the 139th anniversary of the battle Friday and Saturday, June 26-27, 2015.
Our annual fundraiser field trip - "Unraveling Riddles in the Shadow of Sharpshooter Ridge" - was a huge success. We began the walk at the front of the visitor center where we hopped on board the bus - generously provided by LIBI's own Apsaalooke Tours - that transported us to the area of the field trip.
LIBI Park Ranger and historian Mike Donahue - as most of you are aware - is the living expert on this battle. Mike was our host for the entire evening while we stayed in one area at the top of Sharpshooter Ridge. Mike addressed many riddles of the Custer Battle and the Hilltop Fight from material found in his soon to be published book. For an excellent detailed account of this fundraising field trip, please jump to Mike Semenock's report.
Friends Feast and General Membership Meeting
Our Friends Feast and general membership meeting took place the evening of Saturday, June 27 behind the Administration Building. Friends seen only once a year mingled before dinner was served.

Joanne must be telling Cricket Bauer a great story!
It was a great evening with Superintendent Denice Swanke providing an update with news from the battlefield. Bob Reece also addressed the crowd with news of Friends. For the second year in a row, weather drove us upstairs inside the Administration Building where Julie Elkshoulder catered our meal of amazing and healthy Indian Tacos. Park Ranger Steve Adelson finished the evening with several readings of his powerful poetry from the Battle of the Little Bighorn.

Steve Adelson reads "With a Hatchet"
Interpreter Volunteers, Friday and Saturday June 26-27
Our amazing volunteers interpreted Friday and Saturday, June 26-27. along the Deep Ravine and Keogh/Crazy Horse Trails, Last Stand Hill, Indian Memorial, and Reno-Benteen Battlefield. Friends would not be as worthy if not for our members and the volunteers. As happens each year, visitors gave praise for our volunteers. Thank you all!
Friends Informational Table

Kay and Lola
Friends Treasurer Kay Hunsaker, and Secretary Lola Mauer once again manned our information table in front of the visitor center where they provided information about Friends, signed up new members, and answered general questions for the visitors of the Monument. Over the last few years, this table has also grown into a quick stop for our membership and volunteers to stop by to meet and greet each other. Kay and Lola found one of the few shady spots to place the table, which turns out to be a valuable benefit for our tired volunteers. Thanks again for another great year for this important task Kay and Lola.
I'll see you on Last Stand Hill.
Bob