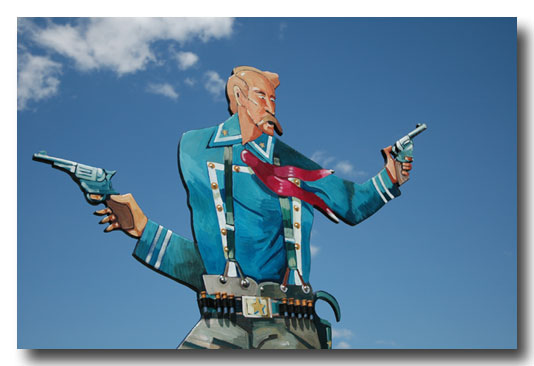 All figures copyright Thom Ross, 2005
Thom Ross and his crew spent five hours laying out the 200 life-size figures of soldiers and warriors in the first unique interpretation of Custer's Last Stand for the 21st century held at Medicine Tail Ford, Little Bighorn Battlefield June 23-25, 2005.
When I first gazed upon the exhibit from some distance west of the battlefield road it appeared as one giant canvas painting. It was remarkable. I can honestly say that I've never seen anything like this in the art world. No one can say it isn't original.
Unknown to the artist, it turned out that Ross placed his figures in the same area where the film "Little Big Man" shot the last stand.
Ross gave my family and I a tour of the entire canvas pointing out interesting characteristics with some of the figures. It was truly amazing to walk amongst the figures. I hope to capture that same feeling for you in these pages of photos.