All photos © Larry Bright, Phil Dyer, Megan Reece, Mike Semenock, and Sharon Small, as noted. Float your mouse over each photo to read caption; click to enlarge.
---
By Megan Reece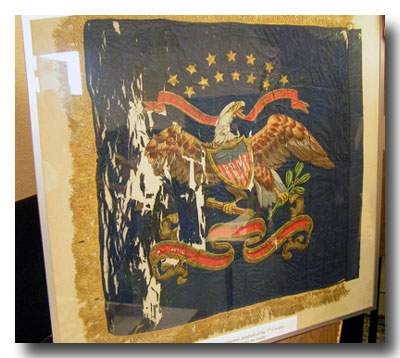 Archive Tour, 7th Cavalry Regiment Standard -- photo by Larry Bright
Chief Curator Sharon Small and Park Ranger Jerry Jasmer conducted our tour of the archives in the basement of the visitors' center. We enjoyed the tour the evening of Saturday June 28, 2008 after the Friends Feast and after the Monument was closed to the public.
The tour began with Sharon taking us to her office which is located inside the archives. There, she had displayed a replica painted buffalo robe similar to the robe owned by Sitting Bull. The robe was donated to the Monument by former superintendent Darrell Cook's son.
Sharon then led us into the storage room of the archives where cabinets house countless artifacts. Finally, we actually entered the vault where the original and important artifacts are stored. You can see from the photos below that the vault is a tiny space.
Our tour continued in the basement theater where Jerry Jasmer presented an overview of the Slim Buttes Battle, September 9, 1876. This story was important to our tour because on display for us to view were all the items found in American Horse's village after the battle. Two important items were found there: Capt Keogh's gauntlets and a 7th Cavalry company guidon that was used in the Battle of the Little Bighorn under Custer's command. At that time, the cavalry did not display a company's letter designation on the guidon. We really don't know which company this guidon actually led into its final battle, but because it was found in the same tipi as Keogh's gauntlets, it has been designated the Keogh Guidon. The 7th Cavalry regiment standard did not go with Custer in the Battle of the Little Bighorn. It is believed the standard was left behind with the pack train.
The final segment of our tour was held upstairs in the museum. Jerry Jasmer showed us his original 1873 Springfield and operated it so we could observe how a soldier used it in battle. Sharon gave an overview of J.K. Ralston's painting, "After the Battle". She concluded a tour that none of us will forget with an overview of the new Sitting Bull exhibit to which Friends donated $5,000.
We cannot thank Sharon Small and Jerry Jasmer enough for the countless hours they gave in preparing for our tour. It was a Friends event none will forget. Enjoy the photos from the tour.