John Husk Remembers Gary Gilbert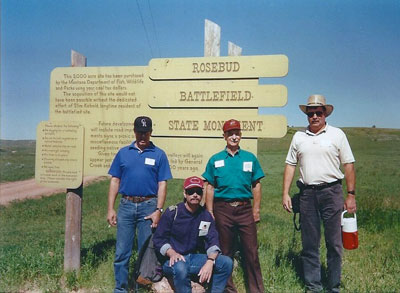 L-R: Rick Meyer, Craig Fischer, Gary Gilbert, and John Husk
Photo courtesy of Kay Hunsaker
I met Gary Gilbert the first year Jim Court came to the battlefield as superintendent. That year Jim planned a field trip for the CBHMA to the Crow's Nest. He asked for volunteers with pickup trucks to carry as many people as possible up there and follow Custer's route to the battlefield. Mike Reynolds was asked to ride along to point out the Lone Tipi site and others where Curley had taken and pointed these out to Mike and his father while his father was the Crow Indian Agent at Crow Agency.

I was driving my pickup truck in which Gary and Joy Gilbert along with Ron and Joyce Nichols were riding in the back and the elderly Mike Reynolds was in the front. That is the first time I met Gary and Joy or Ron and Joyce Nichols.
This chance meeting began a long and close friendship among all of us which included annual meetings at the battlefield with us camping together and Gary, Ron and me riding motorcycles along Reno Creek to and from the Crow's Nest as well as side trips along the way. Our friendship over the years including attending and rooming together at various CBHMA and OIW conferences and seminars as well as exploring the 1874 Expedition route in the Black Hills together and climbing Inyan Kara.

Gary always had a smile and a good word for everyone he met. It was impossible for anyone meeting him not to like him. It was always good to talk to him on the phone over the years and for Dale and me to get the chance to visit Gary and Joy at their home in Cape Girardeau, Missouri and meet their family. When Gary read a new 'Custer' book which he enjoyed, he would email me about it, give me his opinion on it as well as where to purchase it. Several books in my collection were acquired because of his recommendations. I valued his opinion highly.

Gary has always been a good friend and will be greatly missed. Last week while at the battlefield, Craig Fischer and I mentioned that we missed seeing Gary and Joy at the battlefield this year. I am glad I got to see him at the OIW conference in Denver this year.