Chief Historian John Doerner Retirement Party
June 25, 2011
All photos © Bob Reece and Scott Burgan as noted.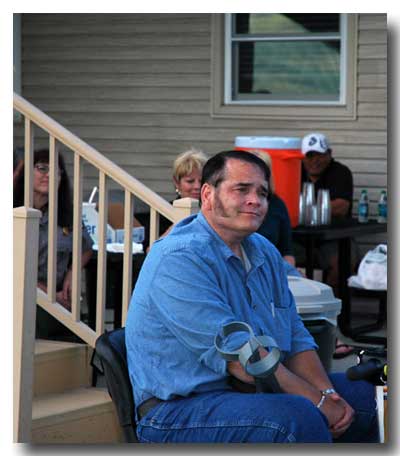 John Doerner will be missed
John retired effective April 29, 2011 after nearly 21 years with the Park Service. More information is available in our news section of the website. We had a chance to wish John the best of luck in his future as a retired park service employee immediately after our general membership meeting and Friends Feast.
Several individuals took a moment to publicly thank John for his many years of service to the battlefield and Friends. Bob Reece also presented John a plaque on behalf of Friends.

Reece got the ball rolling by giving John much credit for the success of Friends and then presented a plaque to him from Friends. Photo SB

Doerner holds up the plaque. Reece also gave John a copy of Ghost Herder signed by the editorial staff and the authors. Photo SB

Jerry Greene followed to say a few words for Doerner. Photo BR
Jerry presented a nice historical gift to John. Photo SB

Jerry and John. Photo BR

Mike Donahue followed with some amazing thoughts as well. Photo BR

While John listened. Photo BR

John heard Neil next. Neil was Johnís boss twice: when Neil was chief of interpretation in the 80s and then as supt 1998-2002. Photo BR

Neil and John. Photo BR

Neil Mangum and Doerner. Photo SB

Tom Heski said many great things about John as well. Photo BR

Tom and John. Photo SB

Joy Gilbert shares a quiet moment with John. Photo SB
Friends General Membership Meeting