Friends General Membership Meeting, Friends Feast, Ghost Herder Signing, & NPS Feed
June 24-25, 2011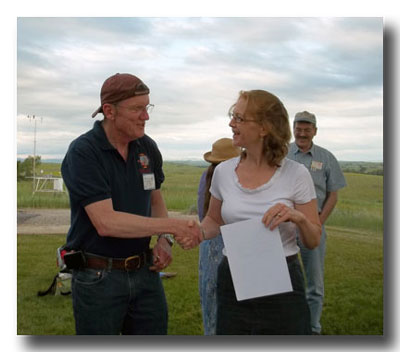 Friends Renews MOA For Five Years!
photo by Kay Hunsaker
All photos © Bob Reece, Scott Burgan, Helen Keremedjiev, Kay Hunsaker, Stefani Herridge, and Joanne Blair as noted.
On this page of our website, we will provide photos of these events. It was a busy but fun weekend for Friends members and volunteers. If any of our members have photos they'd like to share, please email them to Mike Semenock or Bob Reece.
"Ghost Herder" Signing
June 24, 4:00 - 5:00 PM, visitor center
"Ghost Herder" Managing Editor: Bob Reece
Senior Editor: Neil Mangum
Asst Editors: Mike Semenock and Ryan Trainor
Authors: Kingsley Bray, Mike Donahue, Jerome Greene, Dr. Douglas Scott, and Neil Mangum
All of the editorial staff and authors were present for the signing except Kingsley Bray and Dr. Scott. And, all had a blast. We had one hour for the event and then Donahue had to rush to present one of his famous battle talks. In that hour, we must have signed about 50 copies. If you don't have yours yet, go here to order a copy or two of "Ghost Herder".

Father Vince Heier gets his GH signed. L-to-R: Trainor, Reece, Donahue, Mangum, Greene, Semenock. Photo JB

Mike Donahue (L), Neil Mangum (R) -- photo SB

Jerry Greene - photo KH

Mike Semenock - photo SB

Mike and Neil -- photo SB

Reece and Donahue -- photo SB

Scott Burgan gets his GH signed. Friends new member Jan Reed holds up sign she made to promote the event. Photo KH

Over Ryan's right shoulder is where Custer fell. Photo KH

Kay Hunsaker takes her turn holding the promotion sign. Photo JB

We always have a lot of fun during the Friends anniversary weekend. Photo JB
General Membership Meeting & Friends Feast
Saturday, June 25
6:00 -- 8:30 PM, Administration Bldg.

We hold the Feast and general membership meeting behind the Admin Bldg on the battlefield. Photo BR

The original Friends logo design on a shield. Photo BR

L-R: In deep conversation are Jerry Jasmer, Brian Duggan, and Helen Keremedjiev. Photo BR

Feasting on outstanding Indian Tacos provided by Julie Elkshoulder. Photo BR

Bob Reece welcomes everybody to the Friends Feast and general membership meeting. Photo SB

Acting Superintendent Barbara Johnson providing a battlefield update. Photo BR

Johnson providing battlefield update. Photo SB

NPS Admin Sandy Harris. Photo SB

Friends Treasurer Kay Hansaker. Photo SB

Park Ranger Jerry Jasmer. Photo SB

Acting Superintendent Barbara Johnson. Photo SB

L-R: John O'Connell, descendent of Pvt David O'Connell, Company L, Killed with Custer battalion. Ryan Trainor Friends board member. Photo SB

Valerie Zeeb and Friends board member Mike Semenock. Photo SB

Great People: Chief Curator Sharon Small, Gary and Joy Gilbert. Photo SB

Trainor. Just got back from getting books in the visitor center. Photo SB

L-R: Bob Reece, Joanne Blair, baby Miles, and Mom (Supt) Kate Hammond. Photo BR

Long time volunteer and loyal Friends member Dave Depperman. Photo BR

Hank Pangione is always a blast. Another long-time trail volunteer and Friends loyal supporter. Photo BR

Joanne and Julie Elkshoulder and her son. Photo BR

Joanne, Miles, and Kate. Photo BR

Babies are fun. Miles handled all the attention amazingly well. Photo BR

Gary Gilbert and Neil Mangum. Photo BR

Friends members: Christine Martin and granddaughter Jordan. Photo BR

Mother Marisa Ruder and daughter Jordan. Photo BR

Two Supts of Little Bighorn: Neil Mangum (former and current Friends board member) and Kate Hammond (current). I love this photo. Photo BR

At end of meeting Reece & Hammond signed the renewed MOA between Friends and NPS while Kendra watched over Kate's shoulder. Photo SH

Kate signs the MOA. Friends member James Thorn in front. Photo SH

Reece signs the MOA. Photo SH

The MOA renewal is for five years. That is a huge accomplishment and one we can all be proud. Photo KH
NPS Public Feed
June 25, 2011
Visitor Center Patio

Crowds were smaller this year. Mike Donahue in foreground. Photo JB

Donahue managed the soda line. Photo BR

Friends board member and treasurer Kay Hunsaker works the food line. Photo BR

Friends member Jan Reed works the food line. Photo BR

Music provided by local drum group. Photo BR

Friends members Ruth Rohde and Joanne Blair at the public feed. Photo BR
More of our Friends

Friends board members Mike Semenock, Bob Reece, Kay Hunsaker. Photo KH

Tim Bernardis, Jolene Peterson & her grandkids Jordan and Marshall. Photo BR

Mike Semenock holds the Friends logo shield. Photo KH

Reece and Hunsaker. Photo KH

Neil Mangum, Jerry Greene, Jan Reed. Photo KH

Pearl Harbor Chief Historian Danny Martinez, Reece, & Mangum. Photo KH

Mike Semenock and Ruth Rohde work on the volunteer schedule. Photo BR

L-R: J. Greene, Rodney Bridgers, M. Semenock, and Tim Bernardis discuss the battle and just how tall Weir Point really is. Photo BR

L to R: Dona Tomita and Joanne Blair find a quiet moment to get to know each other. Photo BR
A few more landscape photos

The newly rebuilt Deep Ravine Trail. It was badly damaged from water erosion brought on by heavy spring rains. Photo BR

The new Deep Ravine Trail. Photo SB

A rare photo of an empty visitor center patio. Photo BR

Custer National Cemetery and visitor center. Photo BR

Crowds were smaller this summer. Photo BR

Last Stand Hill seen from Calhoun Hill at sunset. Photo BR

The bluffs overlooking Medicine Tail Ford. Photo BR

Squaw Peak (hill with trees on top). Some think it was from SP that Curley turned around for one final look upon the Custer Battalion. Photo BR
John Doerner's Retirement Party