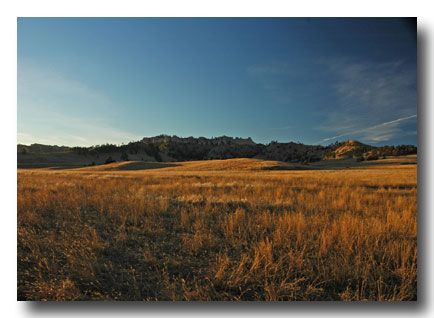 The bluffs southwest of Fort Robinson
Welcome to our section regarding the final days in the life of Crazy Horse. We are fortunate to have one of the most knowledgeable historians of this period tell us the story: Thomas R. Buecker is the former curator at the Fort Robinson Museum near Crawford, Nebraska where he ably served for decades. His two volumes: Fort Robinson and the American West, 1874-1899
and Fort Robinson and the American Century, 1900-1948
tell the complete story of the fort and the many fascinating people and events in history that walked over its grounds. Two episodes in its history -- the killing of Crazy Horse on September 5, 1877 and the Cheyenne Outbreak on January 9, 1879 -- affected some of the people that fought against George Custer's 7th Cavalry at the Battle of the Little Bighorn.
Mr. Buecker begins his account of the killing of Crazy Horse in the spring of 1877 when Red Cloud's people were well settled at the Red Cloud Agency within sight of then Camp Robinson. With Crazy Horse's surrender in May 1877 and his arrival at the agency, things began to change. The Crazy Horse story is filled with intrigue, jealousies, betrayals, and sadness. Mr. Buecker weaves us through the complex issues during the final days of Crazy Horse with clarity while not sacrificing detail.
When you have finished reading Mr. Buecker's article, you might want to check out the only photo of Crazy Horse to exist, or is it?
We've also included a historical timeline regarding Fort Robinson for background prior to and after Crazy Horse's death.
The photos of Fort Robinson and its environs were taken during our stay November 16-18, 2009.

Warm Regards,
Bob Reece
November 22, 2009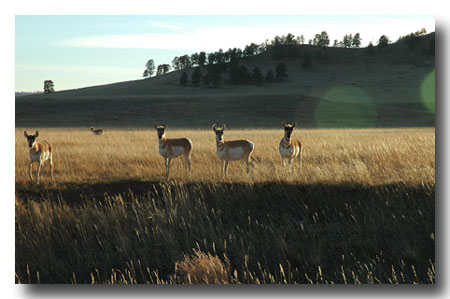 Antelope south of Fort Robinson