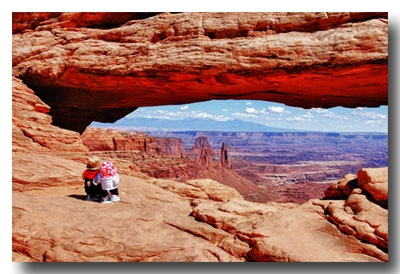 Eddie and Isabella at Mesa Arch
Hi. I'm pleased to introduce you to Eddie and Isabella. They would love to be friends with you...and you...and you! Eddie and Isabella are busy right now at Mesa Arch. Nice view, isn't it? They think so. They've been wanting to visit Mesa Arch for years and years it seems. Now, at last, they're there. And, they're really happy you're here, too. How do you like the view?
What are Eddie & Isabella doing anyway? And where is Mesa Arch, you ask? Eddie & Isabella love to visit as many United States National Parks as possible. These Parks are not the kind with swings and slides but preserved and protected so people can visit them for future kids like you. National parks might have mountains, beaches, forests, glaciers, lakes, and even deep canyons like the one below Mesa Arch. Have your parents taken you to a national park? If so, which national park have you visited?
Eddie & Isabella also love to see historic places. So far, Eddie & Isabella have been to a lot of the Parks but there are so many more to go.
Eddie & Isabella are temporarily on the Friends website to take you along with them on their adventures. Would you like that? Oh, we almost forgot. Mesa Arch is in Canyonlands National Park which is in Utah. Mesa Arch is one of the most photographed sites in the national parks. You might even recognize it. Well, except for Eddie & Isabella being in the picture!
I'll be showing you plenty of photos of Eddie & Isabella, the Parks they visit, and their other friends who will show up now and then. They have some very interesting friends. If you want to send a photo of you and your favorite friend to show Eddie & Isabella and other visitors, we'll tell you how later.
For now, who do you think is Eddie? Who do you think is Isabella? Well, let's see, okay?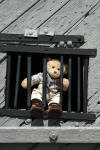 All small thumbnails can be clicked on to enlarge
This is Eddie. Where the heck is he? What happened? Is he in jail?!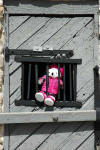 And, this is Isabella. My goodness. She's in jail, too!
Don't worry, they're not in jail. They're in a renovated jail, but not as prisoners. They're at Fort Laramie National Historic Site which allows anyone to go in and out of the jail...whenever they want.
You must be wondering who Eddie and Isabella are? Why don't we ask them?

Eddie & Isabella Talk

Eddie: "Hola Kola. That's 'Hi Friend' in Lakota. I'm a Grizzly Bear. Not a mean Grizzly Bear, but a nice one. You know, the kind you can take to bed and snuggle with. Or a good friend when you feel sad. I love the great outdoors, the smell of pine forest, and the sound of a rushing mountain stream. My favorite thing to do is go see a national park and smell the fresh mountain air. Other places I like to visit are historical sites like where this photo was taken. In the picture of me above, I'm at Fort Robinson State Park near Crawford, Nebraska and the spot where the great Lakota warrior, Crazy Horse, was killed many years ago. This is a sacred place to the Lakota and Cheyenne people. But, more on that later."

Isabella: "Thank you kindly for asking and it's nice to meet you all. I'm an Owl – you might say that I'm a wise Owl. And, I do my best to keep Eddie out of trouble. He's right. He's the nicest bear you would love to meet – he wouldn't hurt a fly. Eddie and I are best friends forever (BFF for short)."
"I love to dress up whenever I can. Nice clothes and fancy shoes. I always look fashionable even when I'm hiking in the mountains. Believe me, not everyone should try that, especially you! See the picture of me up there, I'm wearing one of my favorite outfits."
"The other thing we enjoy is sharing photos of our adventures in the national parks. Sometimes Eddie will take me to visit historical places. I used to hate going to places like that, but now I love them just as much as…let's say, Rocky Mountain National Park. Have you ever been there? Do you like to visit the national parks, too? You do? Wow, maybe we could all go together? Or, maybe you could share photos of your BFF when you visit national parks or historical sites? But, more on that later."
Thank you Eddie & Isabella for taking the time to share a little bit about yourselves.

Eddie & Isabella like picnics in the Parks. Here they're enjoying a picnic in Rocky Mountain National Park. Looks like Eddie is trying to keep those strawberries and blueberries all to himself. He is a bear, you know. But, in the end, he always shares everything he has with his BFF.
Eddie & Isabella go to the park ranger programs as much as possible. Sometimes, they are at night at an amphitheater with a big campfire where the ranger shows pictures of the Park and its wildlife like the photos below.
Examples of wildlife Eddie & Isabella see in the Parks
Want to meet a nice Park Ranger?

This is park ranger Jerry Jasmer, one of Eddie & Isabella's absolute favorite park rangers. You might recognize the all too familiar park ranger hat and uniform, right? Sort of like the hat Smoky the Bear wears.
Mr. Jasmer is a ranger at the Little Bighorn Battlefield National Monument. Here, Eddie & Isabella are listening to Mr. Jasmer's program about that battle. This program is not at night -- gee, that's obvious from the picture -- but during the day on the visitor center patio. The battlefield is behind Mr. Jasmer.
Park rangers are good people to get to know. They can answer a lot of questions about the Park or even help you in a time of need. A very nice ranger helped Eddie & Isabella one very late night when they were lost somewhere on Trail Ridge Road in Rocky Mountain National Park. The ranger got them turned around and led them safely back to their campground.

Ranger Jasmer Presenting A Program
Some of the Parks offer cool Junior Ranger programs. Mr. Jasmer manages the Junior Ranger program at the battlefield.
Want to visit a national park with Eddie & Isabella?
So, Eddie & Isabella would like to take you along on one of their road trips to a national park. You'll see the same views in the Parks and historical places as Eddie & Isabella. Maybe you've visited some of these places and some might be new.
When you travel to a Park or historical place with your parents, you might ask them to take a photo of you and/or your favorite stuffed animal friend -- BFF -- in the Park and email it to Eddie & Isabella. They'd like to see your photos and meet your friend. If your parents will let us, we'll post the photo in our gallery of Friends in the national parks. Just click here to email us the photos. We post first name and state only to protect your child's privacy.
Mom and Dad: for more information about how we protect your children's privacy, please visit our "For Parents" page.
Eddie and Isabella are on the road right now heading to Little Bighorn Battlefield. They'll report back in with photos once they return.

The characters Eddie and Isabella as well as all associated characters are created by, trademarks of and © Bob Reece and Joanne Blair. All rights reserved.
The stuffed animals are made by Build-A-Bear Retail Management, Inc. Build-A-Bear Workshop®