Custer, the Seventh Cavalry and the Little Big Horn
By Michael O'Keefe
Book Review by Bob Reece, October 16, 2012
---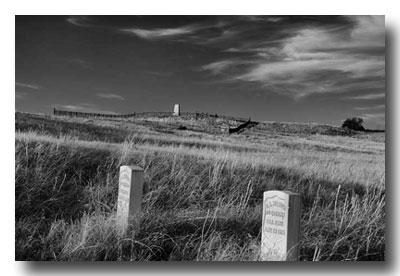 Last Stand Hill overlooks two Unknowns
Limited to just 500 copies and published at a premium price, Michael O'Keefe's bibliography Custer, the Seventh Cavalry, and the Little Big Horn: A Bibliography (Hidden Springs of Custeriana)
is not for the casual reader of Custer's Last Stand. You will not find the story of George Armstrong Custer or the Battle of the Little Bighorn in these pages, but you will find an amazing and very up to date listing of every published fiction, non-fiction, and pamphlet – which includes magazines and journals – comprising this subject. Mr. O'Keefe includes our own journal "Ghost Herder" which takes the collection through May 2011.
Mr. O'Keefe's work comprises two-volumes, hardback, and published by Arthur H. Clark Company with a foreword by Robert Utley. The Introduction is a great reference of past collectors of everything Custer as well as earlier published bibliographies. The Custer/Little Bighorn enthusiast will immediately recognize the collectors Fred Dustin and Colonel Graham, but others are not well known. Frank Mercantante, Tal Luther, Tom Swinford, and James Dowd remained in the shadows until Mr. O'Keefe added to their foundation of bibliographies.
The amount of published material on this subject is nothing short of astounding and Mr. O'Keefe's stunning achievement is not the end-all reference. Publications on the Little Bighorn will continue to thrive for future generations to document. For this generation, there is nothing better.