History in the Making
History Made
Construction of the Indian Memorial began on April 23, 2002. The Memorial stands about 75 yards from Last Stand Hill. All photos provided by the Little Bighorn Battlefield National Monument unless noted otherwise.
Update August 26, 2013
It is hard to believe that it has already been 11 years since construction began on the Indian Memorial. Many of us believed it was complete, right? Not quite. The panels mounted inside the memorial expressed the tribe's accounts about the battle, but they have always been temporary. Over those years, there have been countless meetings managed by four NPS superintendents and staff, with the tribes, to finalize and agree on the wording, art, and names of warriors. Their work is finally done! The time has come to carve those thoughts into granite.
Work began on August 26, 2013. Sadly, the memorial will be closed during construction but will reopen sometime in October. The first task is to remove the temporary panels. Once that is complete, then work can begin on the granite blocks that were originally mounted on March 25, 2003 (scroll way down for those photos). Over the next month, a lot of etching and carving into granite will be heard from outside the walls of the memorial.
We wish to thank the great Park Rangers of Little Bighorn Battlefield National Monument for capturing the progress of the installation of the panels and for allowing us to post these photos.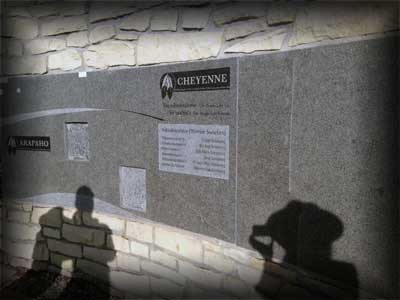 Photos courtesy LIBI. Recognize the Smoky the Bear hat?
August 26 Work Photos
August 28
September 3
September 5 - Coincidentally, Crazy Horse killed 1877
You'll see some etching starting to show itself in these photos shot early evening.
September 9

September 11
September 16
September 23
Original Construction of the Memorial Below
June 18, 2002 -- Pouring Cement
July 10, 2002 -- Begin work on the parking lot and new walkway to the Indian Memorial.
July 13, 2002
August 11, 2002--Both pictures viewed from the visitor center parking lot. Photos by Bob Reece
August 26, 2002
September 9, 2002
September 10, 2002 -- Inside the Memorial
October 17, 2002
October 25, 2002
March 25, 2003--A sure sign that spring has returned to the Little Bighorn Battlefield. Construction on the final phase of the Indian Memorial has begun. These photos show the unloading of the heavy granite blocks.
Temporary panels showcasing the tribes will be mounted onto the blocks. Someday, down the road, once the tribes provide the final text and images, then permanent panels will be remounted.
One Year Later, What a Difference a Year Makes -- April 24, 2003
Spirit Warrior -- photo by Bob Reece