Dog's Back Bone -- Minniconjou
Marker Dedication
June 26, 2003
By Bob Reece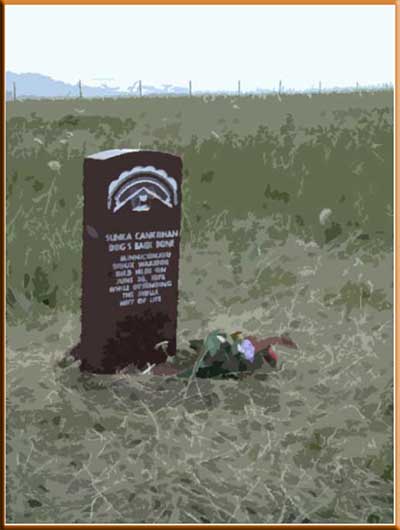 The fifth marker for warriors who fell during the Battle of the Little Bighorn
Personally, one of the most moving and intimate events that took place over the two days of celebrations at LBH was on June 26, 2003 when the NPS unveiled the newest warrior marker for the Minniconjou, Dog's Back Bone, who died fighting at the Reno-Benteen Defense Site.
Present at the ceremony were many of Dog's Back Bone's direct descendants, NPS John Doerner, Chief Historian Little Bighorn Battlefield National Monument; former Supt Neil Mangum and Barbara Sutteer. The ceremony was private and no photos were allowed.
His relatives spoke about Dog's Back Bone's son being five or six years old when his father died and how he eventually lived at a boarding school for the American Indian. Each of Dog's Back Bone relatives said a few words. Dog's Back Bone's name comes from the example of when a dog is ready to fight and the hair on his back flairs up. Dog's Back Bone was always ready to defend and fight for his people.

Dog's Back Bone Marker at right just outside the shadow into the light
photo courtesy Joanne Blair
John Doerner shared the story of Dog's Back Bone's death. The warriors were moving closer to the soldier's lines from the east when bullets suddenly flew over their heads. Dog's Back Bone yelled to the warriors to be careful because even though the soldiers' looked far away, their weapons were strong. Dog's Back Bone yelled for his fellow warriors to keep their heads down when a bullet struck him in the head killing him instantly.
The relatives asked John Doerner to explain how he found the rock cairn for Dog's Back Bone. John explained that he had been looking for the cairn for quite sometime and always left the site frustrated. One day John came to the Reno battlefield and asked Dog's Back Bone spirit to show him the way. With tears rolling from his eyes, John spoke of a very intimate moment when he began to walk east in a straight line, never wavering he was brought to the rock cairn where the marker now stands. As John shared this story the relatives began to cry. And, it seemed Dog's Back Bone's spirit was with us that day because a small cloud formed overhead and warm raindrops began to fall upon the crowd. As we dispensed to leave, the raindrops ceased.
I will never forget that moment.
Dog's Back Bone Family
The Claymore and Kingman families and Park Historian John Doerner
photo courtesy Little Bighorn Battlefield National Monument
Dog Back Bone marker photo © Bob Reece