Order Here for International Orders Only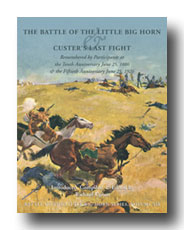 Regular retail price is $99.00 ($55.00 plus $44.00 for shipping and handling).
Order today from us for only $88.00 ($44.00+$44.00 S&H)
Savings of 20%(not including S&H)!
Order your copy today. Please allow 5-10 business days for delivery. All proceeds from the sale of this book helps Friends assist NPS at Little Bighorn Battlefield National Monument.
Thank You For Your Order